This is your PvP demon.
Also, after tonight's inc-fest in PvP, I feel the need to post this. I have no shame in posting a picture of myself dead (since it doesn't happen that often anyway).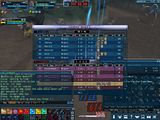 So for all the incense accusations being thrown around, please focus your attention to the top left corner. Don't assume that
ZOMGZ EVERYONE IS ON INCENSE!!!11!!one11!eleventy!1
The only reason I keep incense in my inventory at this point is for ridiculous matches like the ones held tonight; and to be completely honest
none of you are even worth wasting it on
. You're not only making yourself look like an incredible douche-turd when you incense, but you're ruining the game for those of us who have a little something called
pride.
Not that this will accomplish a damn thing, but Lielle found this link tonight, and I feel the need to share it as well: