So I drafted a very long-winded post on Friday about all the backseat moderators on the Aeria forums and how much I dislike them; then I realized I could sum it up with just that--
I hate backseat moderators.
For those who are unaware, I went Neutral. People seem to obsess over the Law/Chaos doramaz still, so between wanting to not be a part of that anymore, and wanting to abuse a new crystal setup, going Neutral was the best option for me.
In unrelated-to-Imagine-news, I got a PSP for myself as well. So far I've picked up Castlevania: Dracula X Chronicles, Patapon, and Persona. I have to say, I'm overall pleased with Persona; I don't see the point in complaining about the music, considering up until this updated remake came out all we had was
Persona: Black Mark Edition
for the PSX... Anything is better than that.
Mark -->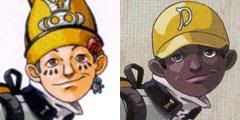 <-- Black Mark
being
a SMT game and
not being
a SMT game. It has the same demons, same sort of battle system nowadays, and same sort of questionable imagery/subject matter...
but it just doesn't feel SMT enough for me.
Lately I feel like it's just
Teenage Angst: The Video Game
. Bring back the SMT games of dystopian, post-apocalyptic worlds with man vs. God conflicts, and a little less of the high school setting of Persona. They're still good games; I'd just rather see the original series pick back up. SMT4 needs to happen; I'm hoping Strange Journey is a step in the right direction.